There's an amazing music community here in Austin that's more supportive than I could have ever imagined, and I was welcomed with open arms. Within the first week I was here I was hired by a local band and played my first show. Within 6 months I was part of a working band and have been working ever since.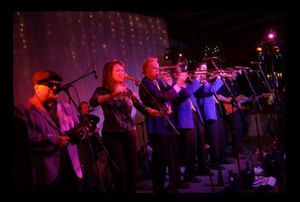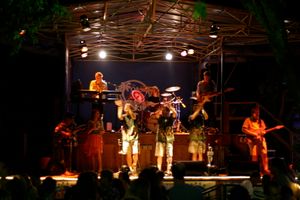 Here I am with my brothers... the 9 wonderfully talented and great guys who make up
Reunion Band
- from left (off camera) Dave Hazlet and John Carrell, and then singing next to me Andrew Coy, Tommy Taylor, (me), Kelly Hodge, Sam Jeffrey, Stephen Jeffrey, Paul Gillia and behind him Paul Hudspeth .  I couldn't have asked for a better band to be part of.  I love these guys.  I think they kinda like me too.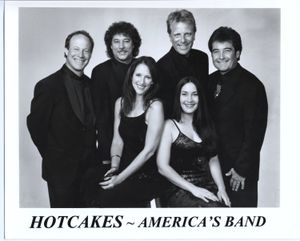 Talk about fun - we really had a blast.  Here I am with HOTCAKES, the first band I joined
when I got to Austin.  What a great group, and what a welcome.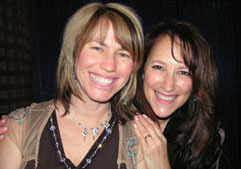 My first friend in music in Austin was
Sara Hickman
,
who immediately took me under her wing and told me
who to call. I got lucky enough to sing with her later
down the road, and her strength, spontenaeity and
supportive friendship have been a blessing in every way.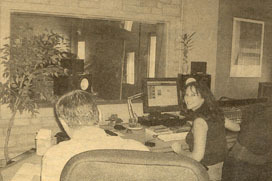 Every time I got to record in the studio, I used to dream about actually being employed in one, where I could be there every day. That opportunity came to me several years ago when I was invited to join the team at The Production Block Studios in Austin and be mentored by Joel Block and Bill Harwell as a recording engineer. I met Bill when I first got to Austin, and he helped me update my voiceover demo. I fell in love with the The Block back then, and would have done anything to work there. It was years later, after I'd had my own recording lab for years and been working independently, that Bill and Joel asked if I wanted to come on board as the office manager and part time engineer. Nobody could ask for a nicer group of people to work with, or an organization with as much integrity.  The Production Block closed its doors finally in December 2010 after over 30 years of providing Austin with a fun and state of the art place to record.  Bill is now with The Sound Lab, and Joel has hung his shingle as
The Block House
, where I still work with him.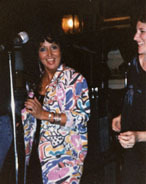 I've gotten to sing with and for some amazing artists and share the bill with some real stars.

Here's a look at some of those
highlights
.

The music road can be scary.  It's not the one my daddy hoped I'd take.  He always hoped I'd pick something
that came with a safety net, like teaching.  I suppose we both learned you don't always get to chose where your
inspirations ly.  But I wouldn't trade any of it, or the precious friendships I've made along the way.