My first recording gig was at the age of 20, when I wrote a few songs for a soundtrack to a movie my mom was producing at the time, called "Ginger in the Morning" starring Sissy Spacek. My songs didn't get chosen for the soundtrack but there was no doubt I'd swallowed the bug, and I loved the recording studio. I knew then and there that I'd be singing and involved in music and entertainment for the rest of my life.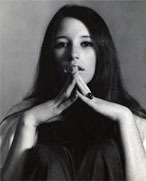 I started singing publicly in my twenties. The style was long denim skirts, and it was a good thing because my knees used to shake so bad when I got on stage that only the skirt could hide it.  When this photo was taken, I was singing in a duo with David Evans (who later changed his name to David Heavens).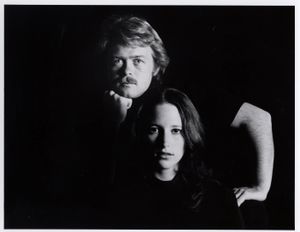 I still love David's songs, and remember how much fun we used to have performing way back then.  Lucky for me he was a great person to work with.  David moved to Dallas, and - John Daspit and David Hicks (who would become the person I've worked with longer than anyone in my music career) and I formed TRIAD.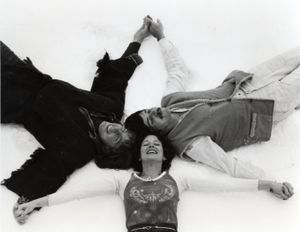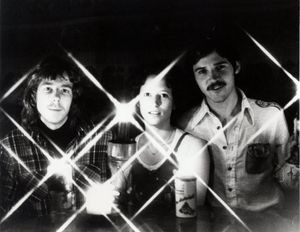 I still think of that as my first professional music endeavor since it was the first time I really made any money! Cafe Nepenthes in Denver... playin' for tips. We made $100 bucks. I don't think any of us had any idea... so we ordered the most expensive things on the menu and lived it up for a night. During this time, Dave was in a band called "New Moon", and they were really popular. Thanks to Dave, I sang with a band for the first time, when "New Moon" would invite me up to sing "Love Is A Rose". I LIVED for those moments. I am sure they knew that. Dave and I would go on to play together 10 years later in The Legendary 4Nikators ... but that's another story. 

So, by the time I was in my first real band, I was living in Boulder, Colorado, and it was quite a heyday in the local music scene there. Crosby, Stills and Nash, Poco, Firefall, The Astronauts, Navarro and Zephyr were just some of the bands whose members lived nearby and were playing in the same places we were. I worked at Nick The Greek's Music Store along with Jock Bartley, Tommy Bolin... Scott Roche used to sweep the floors. He later went on to open one of the most successful recording studios in the Rock Mountains. But back then we were all a little green, and just happy to be around music any way we could (and that hasn't changed). Nick's was in the old Safeway Grocery store on 17th and Pearl. On any given you'd find Joe Walsh or Steven Stills hanging out while Firefall would be rehearsing in the meat cooler in the back, and I'd be serenaded while I worked by Rick Roberts' wonderful voice.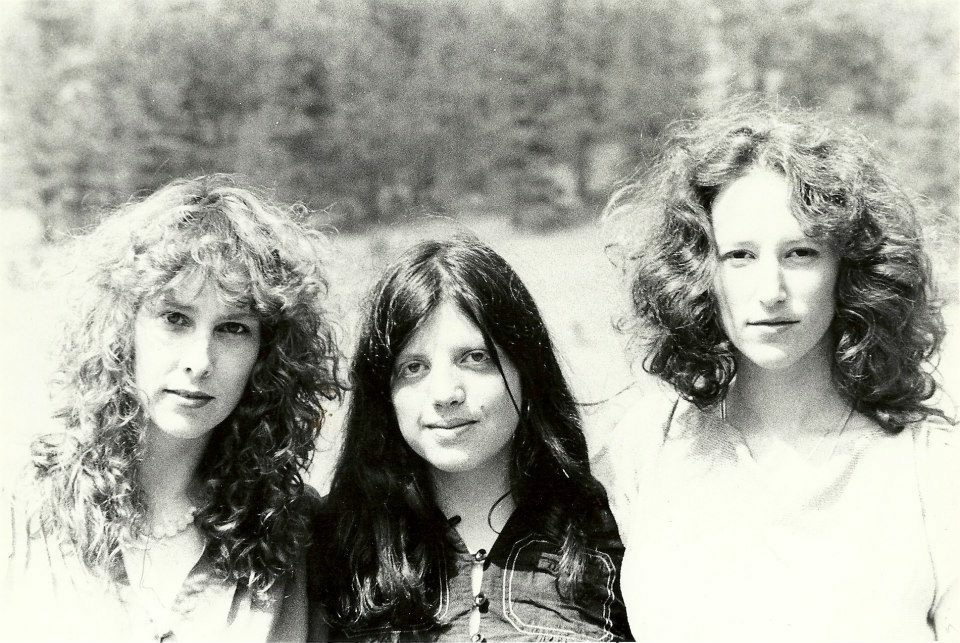 I sang backup in Tish Parmeley's band FAT SHADOW (Somewhere there's a photo of the whole Fat Shadow Band but I can't find it, but above is a photo of the Fat Shadow backup singers (L-R Pattea Carpenter, Linda Fern and me), with Adam Taylor and Bradley Kopp on guitars and Michael Wooten and Michael Wiebold on drums. So Bradley, monster player even back then (and did I mention really cute guy??) would eventually bring me back down to Texas almost thirty years later as his mail order bride. But back then he was one of my best friends who would sometimes walk me home after a rehearsal, and who was there for me during one of the roughest times in my life.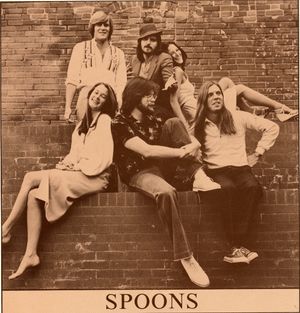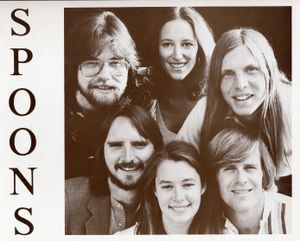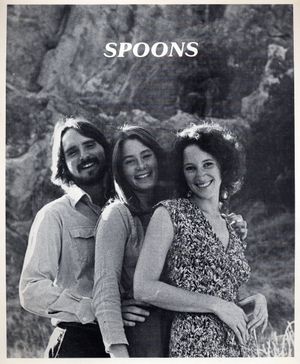 Chris Daniels had just moved to Boulder, with his wife Jill Seeger, and we jammed together, loved the blend, and SPOONS was formed, along with Rob Galloway, Tom Wasinger and Andy Peake.  When Rob left, Greg Overton joined the band.  When Andy moved to Nashville, Merle Brigante joined the band.  When I, and eventually Jill left, Chris decided to head in a different direction and that was the beginning of CHRIS DANIELS AND THE KINGS.  By this time, my son Adam was born and I'd taken enough time off from singing.  Every Sunday afternoon my best girlfriends would come over for a bbq (really, I think, just to hang out with Adam) and we'd sing acapella.  Chris heard us and asked us to open for him at The Blue Note in Boulder.  He put us in the ad for the show and since we didn't have a name he gave us one... and that was the start of
THE GIRLS, with me, Pattea Carpenter, Diane Brown (now Dyann Woody - half of the fabulous WOODYS), and Jill Seeger.  Jill left eventually and Trisha Layne joined us.  We stayed acapella for about a year and when we finally got a band the fun really started.   And the fun stayed on through thick and thin for a good two more years.  I left to have Lilli, Diane eventually moved to Nashville and married the love of her life.  She and Michael still make beautiful music together and are both ordained ministers, helping people through their faith and their music.  Pattea has just finished writing her first best-selling novel (you mark my words) and is on her way to being a successful, published writer.  There's talk of a Girls reunion... well, at least a bbq, just like the old days... 4 girls just hanging out singing, and ... who knows ...