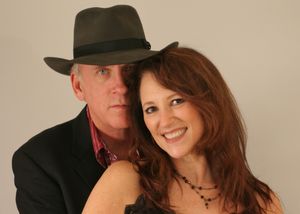 Bradley Kopp and I became friends in the '70's in Boulder, Colorado.  I think we both moved to Colorado around the same time from different parts of Texas - me from Houston and Bradley from Lubbock.   We worked together briefly back then in a band called "Fat Shadow" lead by our mutual friend Tish Parmeley.  Michael Wooten (who plays on our new cd and is still a close friend) was the drummer in that band.  We were pretty good. 

It would be over 20 years until Bradley's and my next gig together.  Happily, that followed on the heels of a partnership built to last a lifetime.

For more about me and Bradley and our music, visit our website
singerandkopp.com

          
         In 2005, Bradley and I produced a beautiful cd called "Walk Tall",
         and with the help of our dear friend Iain Matthews,          
         promoted it in Holland, where  we had the opportunity to play in front of
         some of the best, most appreciative audiences in the world.








          Our new release, "A Deep Oasis", is now being distributed
          in Holland by InBetweens Records and is also
          now available here in the US.  We're planning to tour in
          Holland, and hopefully more of Europe, in the Spring.